https://pbs.twimg.com/media/E907kbxXsAARfEK.jpg
Borussia Dortmund fans can breathe a sign of relief after the transfer window ended on Tuesday night. To this effect, highly rated Norwegian international striker Haaland will spend this season at the club as a move midway into the season is highly unlikely.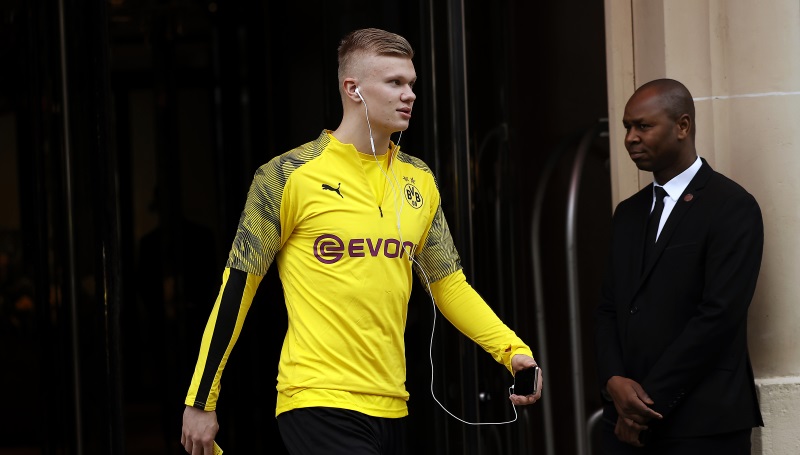 Haaland is widely regarded as the best young striker in world football and he has been at Borussia Dortmund in the German Bundesliga since the start of last year. He joined Borussia Dortmund from Red Bull Salzburg in Austria at the start of last year.
Paris Saint Germain (PSG) were strongly linked with a move for Haaland in the final days of this summer's transfer window. He was seen as the man who could replace Frenchman KylianMbappe at PSG if he leaves for Real Madrid. In the end, there was no need to make a move for Haaland on the part of PSG officials as Mbappe ended up staying at the club. Borussia Dortmund officials were adamant that Haaland would stay at the club this summer despite the late interest from PSG.
PSG and Real Madrid had several discussions on Mbappe and the latter even made a lot of offers for the French World Cup winner in the quest to sign him but they were not able to pull off the transfer thanks to the stance taken by his French club. PSG received several offers from Real Madrid for Mbappe but they preferred to retain his services despite the fact that he has around one year left on his contract. Mbappe can start to speak with clubs around Europe over a possible free transfer move as from January next year.
French giants PSG are at the risk of losing Mbappe for free next summer if he does not sign a new contract. He has already informed PSG officials that he won't be signing a new deal at the club. Mbappe turned down a lucrative salary worth €45m this week. Real Madrid is his dream destination and they made €160m, €170m, €180m, €200m and €220m bids for him this summer without any success.